Dale Moore Memorial Scholarship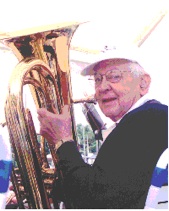 Named for Dale Moore, a distinguished music educator in the Fairfax County School System, this scholarship is in memory of a man who worked tirelessly to bring music into the lives of children, who would grow to become adults who valued music as a necessary part of life.


Mr. Moore was one of the first members of the Mount Vernon Community Bands, playing in whichever section needed his talents for over 25 years. His commitment to community music as an outlet for musical skills learned in school kept him in contact with several generations of musicians.


Since 2002, the MVCB has granted, through a competitive process, an annual scholarship to a graduating senior from the Mount Vernon High School band program.


2019 Awardees Ariel Chavez and Elkha Kruger with Eric Leighty, Band President